White Plains, NY — On Monday, the Westchester County Board of Legislators held their annual Italian-American Heritage Month celebration by recognizing Anthony Amiano of Valhalla and Judy Delvecchio Fix of Eastchester for their strong community leadership.
Board Chair Catherine Borgia (D – Briarcliff Manor, Cortlandt, Croton, Ossining, Peekskill) welcomed virtual and in-person participants alike, with a nod to the significant contributions of Italian-Americans throughout Westchester County. She reflected on the positive influence of her own Italian heritage, "Italians, especially Italians in America, are all about family, community and cherishing the traditions that bring us close. We celebrate life through a love of food, music, and art, but also value helping our friends and neighbors in need. Our doors are always open with a helping hand extended, as is exemplified by our two honorees this evening."
Minority Leader Margaret Cunzio (C – Mt. Pleasant, North Castle, Pleasantville, Valhalla, Sleepy Hollow, Briarcliff Manor) presented the first proclamation saying, "Anthony has always been an integral part of the community in Mount Pleasant, and has always given back, even from an early age. Both when he served on the Valhalla School Board, and as a Councilman on the Mt. Pleasant Town board, he was one of the youngest elected officials in New York State."
"The family values instilled in him through his heritage, his work ethic, and his commitment to lead by principle make him a very special person, and a great example for the Italian-American community."
Mr. Amiano accepted the proclamation saying, "Thanks you to Legislator Cunzio and the entire Board for this tremendous honor. My grandparents came here from Afragola in the Naples region of Italy to provide a better life for themselves and their children…and that's what I really do with my work and community service – help to make a better life for my family, the people around me, and my community…I hope to continue that legacy for the rest of my life."
The Board declared October 4, 2022 "Anthony Amiano Day" in Westchester County.
You may also go to Vimeo to watch the full video.
Legislator Damon Maher (D – Eastchester, New Rochelle, Tuckahoe) presented the second proclamation saying, "Judy has been a driving force in at least ten community organizations and events throughout the years. What I find to be particularly noteworthy is the depth of her commitment to these organizations and their events, and the enthusiasm she shows not just a joiner, but as an innovator. She was the driving force behind the creation of the Eastchester Alumni Association -- a vital organization for both new and more seasoned graduates -- and the Eastchester 5K Race -- an annual fall event that is wildly popular. I run it every year!"
"Judy is always the first to raise her hand whenever help is needed in our community. Whether she and John are up front or behind the scenes, they are there donating their time and resources to countless good causes. I am honored to call her my dear friend, and am proud to see her win this award honoring her good works and our shared heritage."
Ms. Fix graciously and succinctly accepted the honor saying, "My great grandparents left Italy and came to the United States to have a better life for their children and grandchildren. My maternal grandparents taught me all about our Italian heritage and how important it was to them. Then, my parents taught me about giving back to the community where you live."
"I love being involved in meaningful projects in Eastchester and Westchester County, and I look forward to continuing to help improve our town and our community for many years to come."
The Board declared October 5, 2022 "Judy Delvecchio Fix Day" in Westchester County.
You may also go to Vimeo to watch the full video.
Read the program for Monday night's event at: https://www.westchesterlegislators.com/images/Newsroom/2022/100322_IHM_Program.pdf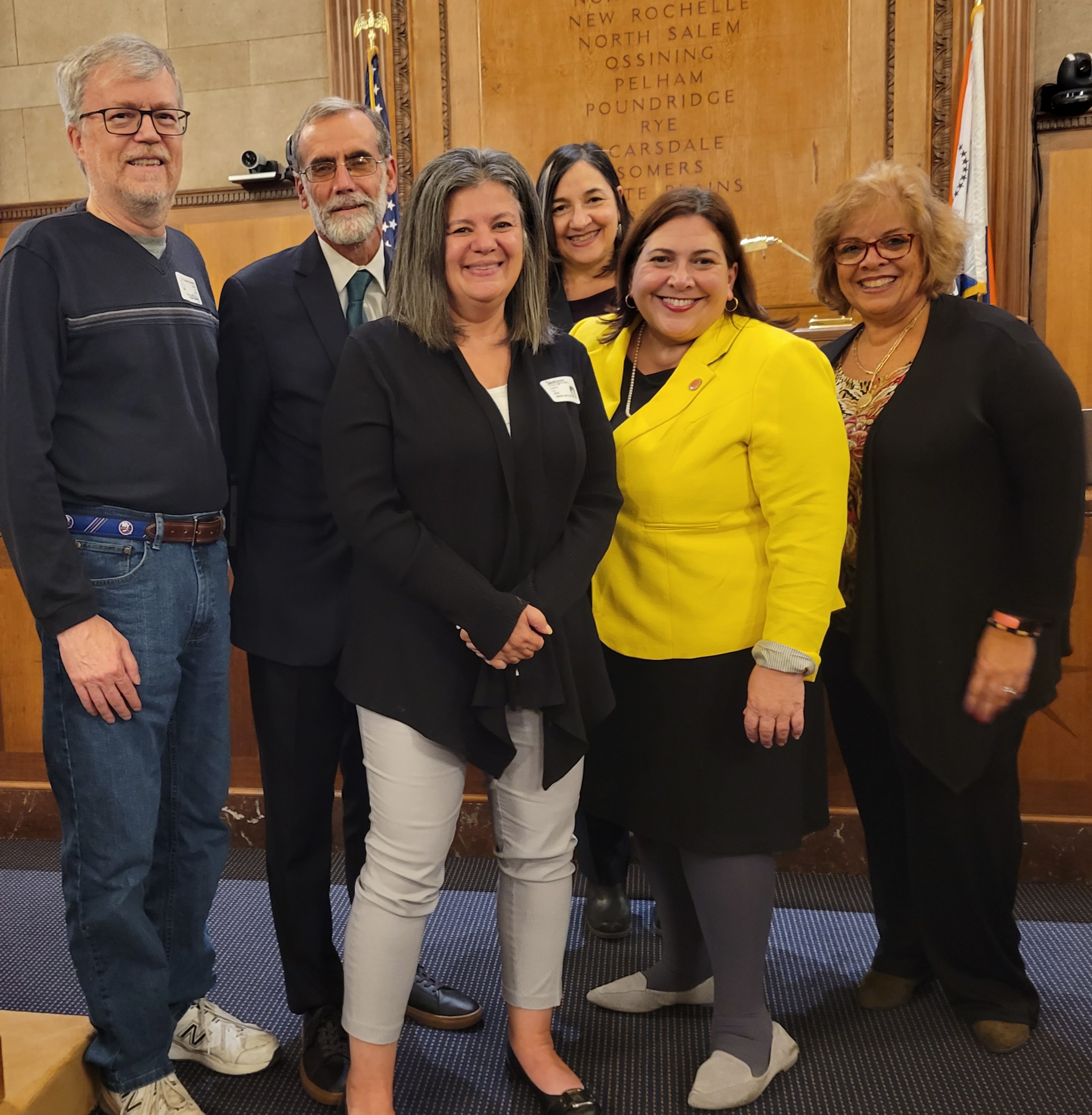 (Pictured L–R: John Fix III, Leg. Damon Maher, Honoree Judy Delvecchio Fix, Chair Catherine Borgia, and friends)