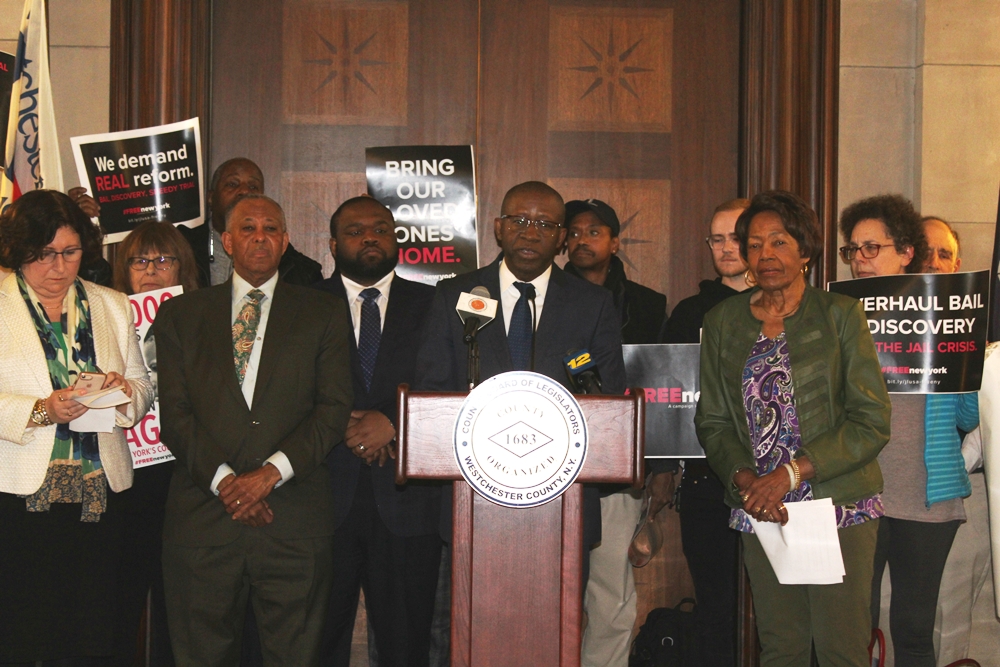 White Plains, NY — On Monday, the Westchester County Board of Legislators passed a resolution in support of three pieces of legislation pending in Albany that will transform the state's pre-trial criminal justice procedures.
The resolution passed on a bi-partisan basis by a vote if 15 – 2.
The state legislation which county lawmakers backed on Monday will eliminate cash bail to make sure that pre-trial procedures don't unfairly disadvantage people without financial means who have not been convicted of a crime.  Today, 57% of people in Westchester County Jail are there because they cannot afford the bail that they have been granted by a court.
The legislation also will make sure that people who are accused of crimes have timely and complete access to information about the charges against them at the outset of the process – which is not the case today.  Current rules often result in people who cannot afford bail and who have not seen the evidence that would be presented against them at trial, bargaining with prosecutors just to get out of pre-trial detention without access to the most basic facts about their cases.
Leg. Lyndon Williams (D – Mount Vernon), one of the resolution's sponsors, said, "Westchester is a county that leads, and we lead in the areas of justice and fairness. This resolution tells our state legislature and the whole nation that Westchester County would like to see a fair system. In the system we have today, your freedom before you go to trail depends on your wealth, and that is not a system to be proud of. We know that we have to balance public safety and other concerns, and we have done that in this resolution."
Board Chair Ben Boykin (D – White Plains, Scarsdale, Harrison) said, "We're not talking about measures to protect criminals or free the guilty, we're talking about measures to protect the innocent, to preserve the presumption of innocence and to make sure that the protection of the law applies equally, regardless of financial situation or race.  It is time to reform the criminal justice system in New York State."
Leg. Christopher Johnson (D – Yonkers) said, "This is a question of rights.  If you are alleged to have committed a crime, you still have rights.  This legislation preserves those rights. If you believe in justice, if you believe in the Constitution, if you believe in saving money and reducing the cost of incarceration, you should be supporting this legislation as we are."
State Senator Jamaal Bailey (D – Bronx, Mount Vernon), Chairman of the Senate's Code Committee and lead sponsor of the speedy trial and discovery bills, said, "Criminal justice reform is long overdue especially in the areas of discovery, speedy trial and bail reform.  I would like to thank Chairman Boykin, Majority Leader Catherine Parker, and Legislator Lyndon Williams who has stood alongside me and shown steadfast support in Mount Vernon for these necessary reforms, and all of the other legislators for their courage in supporting these reforms. Westchester County once again proves to be a leader in progressive values, and I am proud to represent the county in the State Senate."
Speaking of the proposed discovery reform, Clare Degnan, Executive Director of the Legal Aid Society of Westchester County explained, "Our current, outdated discovery laws do not require prosecutors to share most of the evidence in their possession until moments before a trial begins. But most criminal cases do not go to trial, most end in plea bargains and even dismissals. Currently, defendants and their attorneys are blindfolded when considering these deals."
Priscilla Eschi, leader of the FREEnewyork campaign and a member of JustLeadershipUSA said, "Money bail and pretrial incarceration cost me everything. Unable to afford bail, I lost my job, my apartment, and my relationships. When I came home, my youngest child didn't know who I was. I had to put him to my chest to hear my heart so that he might remember me. There is no safety or justice in this system. I am proud that the Westchester County Legislature is taking a stand. Now Albany must respond to the urgent call from New Yorkers across the state and pass the Bail Elimination Act, the Discovery for Justice Reform Act and Speedy Trial without delay."
Katie Schaffer, New York Statewide Organizer, JustLeadership USA said, "New York has an historic opportunity to overhaul an unjust pre-trial system that is responsible for jailing tens of thousands of people pre-trail, separating families and devastating the lives of countless black, brown, Latinx and low-income New Yorkers. Westchester County has taken a powerful step in passing a resolution in support of the Bail Elimination Act, the Discovery for Justice Reform Act and Speedy Trial reform. Now, Senate Leader Stewart-Cousins, Assembly Speaker Heastie and Governor Cuomo must listen to their constituents and move this urgent legislation forward."    
(PICTURED ABOVE L to R: Majority Whip MaryJane Shimsky, Chairman Ben Boykin, Leg. Chris Johnson, Leg. Lyndon Williams, and Vice Chair Alfreda Williams join advocates to discuss criminal justice reform measures in Albany)