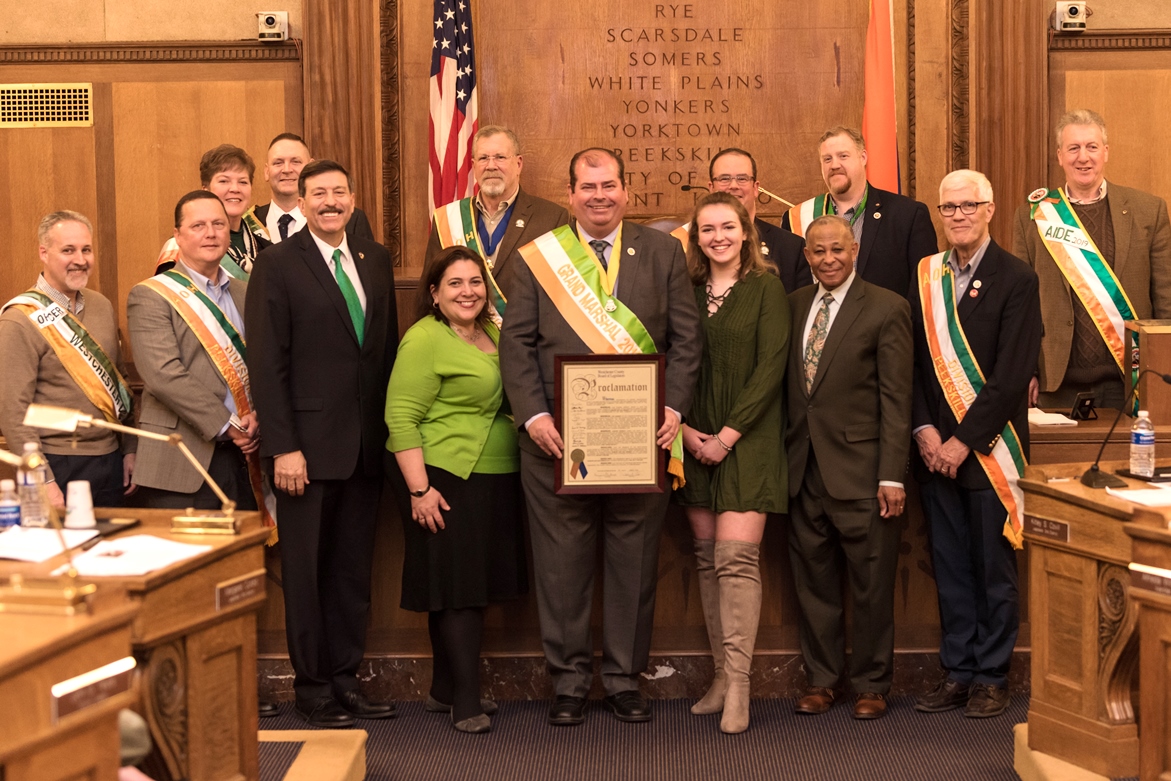 White Plains, NY — On Monday, the Westchester County Board of Legislators held its annual Irish History and Heritage Celebration.
At the event, the Board honored Dan and Siobhan Dennehy, Co-Grand Marshals for the 30th Annual Peekskill St. Patrick's Day Parade, held last Saturday.
The Cortlandt Manor couple co-founded chapters of the Irish Immigration Reform Movement, the grassroots organization that spearheaded the successful U.S. immigration legislation, the Morrison Visa Program, in 1990.
Dan Dennehy told legislators, "What I love about this County is what I see in this room – its diversity, its strength, its wisdom, its kindness, and the way that it works together."
The long-time immigrant advocate added, "When the Irish speak about immigration it's to make enhancement and improvements to the laws, not to curtail or cut anybody down. If anybody has a problem with an immigrant, I suggest they look in a mirror, because that's what an immigrant looks like."
Dan served as president of the County Cork Association BB&P from 1998 through 2000, and, was later honored as "2005 Cork Man of the Year". He is the Founder/Chairman of the not-for-profit Hudson Valley Irish Fest and Center in Peekskill. The 11th Anniversary Fest will take place on Saturday, September 28, 2019. Dan, twice elected and currently the National Director, is the longstanding Immigration Chairman of the Ancient Order of Hibernians in America and AOH New York State Board Immigration Chair. He participated in 'Americans for a New Irish Agenda' (ANIA), in 1992, which initially advised Bill Clinton, first as candidate, then as president, in his efforts towards the Irish Peace Process.
Siobhan joined the Emerald Isle Immigration Center in 2002 and has been the Executive Director since 2003. The agency, which provides front line immigration and social services for immigrants from all over the world, has grown significantly in staffing and programs since her appointment.  EIIC now has Spanish-speaking staff to support Latino clients who seek assistance. At the 2010 AOH/LAOH National Convention in Cincinnati, Siobhan received the AOH/LAOH National John F. Kennedy Medal Award, the organization's highest award for her role in support of Irish immigration.  
This year's County Kildare Association Woman of the Year, Siobhan was represented Monday night by the Dennehy's daughter Cara, because she was in Albany as part of her service this year as Aide at Large to New York City's Saint Patrick's Day Parade with Grand Marshall Brian O'Dwyer.
Introducing the evening's program, Board Chair Ben Boykin (D – White Plains, Scarsdale, Harrison) noted that "the contributions of Irish immigrants and Irish Americans run like a backbone through Westchester as we know it today. You can see that backbone literally when you look at the Croton Aqueduct running through the County. One of the great engineering feats of the turn of the 20th century, the system was built in just five years by thousands of workers many of whom were Irish immigrants. And you can see that backbone today in the many businesses and organizations that are lively, vital centers of economic activity and community support, from the southern part of the county, to the north -- from McLean Avenue in Yonkers up to the Hudson Valley Irish Fest and Center in Peekskill, founded by Dan Dennehy."
(PICTURED ABOVE L to R: Minority Leader John Testa, Leg. Catherine Borgia, Dan Dennehy, Cara Dennehy, Chairman Ben Boykin, with members of the Ancient Order of Hibernians)