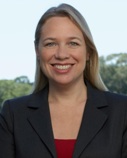 District 7
Mamaroneck, Rye, Larchmont, part of New Rochelle, part of Harrison
---
After serving as Rye City Council Member since 2007, Catherine Parker was elected to the Westchester County Legislature in November 2013 to represent the constituents of the 7th Legislative District (Larchmont, Mamaroneck, Rye, Part of Harrison and Part of New Rochelle).

Catherine is Chair of the Board's Environment & Energy Committee. She also serves on the Budget & Appropriations, Labor/Parks/Planning/Housing and Community Services Committees.

Catherine Parker has been a very active member of her community for a long time. Whether as a volunteer, elected official or business owner, Catherine has worked hard to make her community a better place for all residents.

In 1998, Catherine Parker helped reconstitute the Rye Chamber of Commerce and served as its first President. She reestablished the League of Women Voters of Rye, Rye Brook, and Port Chester (LWV) in 2003 and served as President for four years. Catherine also serves on the Advisory Board for the Rye Arts Center, and has served in a variety of officer positions.

During her tenure on the Rye City Council, Catherine worked hard to pass responsible budgets that added to reserves and kept to the Tax Cap. She fought for the creation of the Rye Flood Action Committee, acted as the Liaison for the Playland Advisory Group and Emergency Medical Services for Rye, Rye Brook, and Port Chester, and served as the 1st Chair of the Senior Advocacy Group.

Legislator Parker considers herself an environmentalist. She was instrumental in the passage of environmental laws such as the leaf blower ban and plastic bag ban in her home community. With the support and partnership of environmental groups throughout the county, Parker believes the county will move forward on legislation that reduces our reliance on fossil fuels, cleans our water and air, and protects our communities from flooding.

For over 17 years, Catherine has owned and operated her own small business in downtown Rye, Parkers. A travel store, Parkers carries everything from clothing to luggage. In addition, Catherine is a member of the Rye Lions Club and Rye Middle School Parent's Teachers Association (PTO). Perhaps most unique about Catherine is that she once won $50,000 dollars on the television show Who Wants to Be a Millionaire?

Catherine is a fourth-generation Westchester resident and considers herself extraordinarily blessed to live in Westchester with her husband David Walker and her two children, Julia and Aidan.

---

E-mail Catherine
or call 914.995.2802

---

Staff

John Filiberti
914.995.8016


Millie Magraw
914.995.2800

---

Committee Assignments

Energy & Regional Efficiencies, Chair
Budget & Appropriations
Environment & Health
Labor/Parks/Planning/Housing