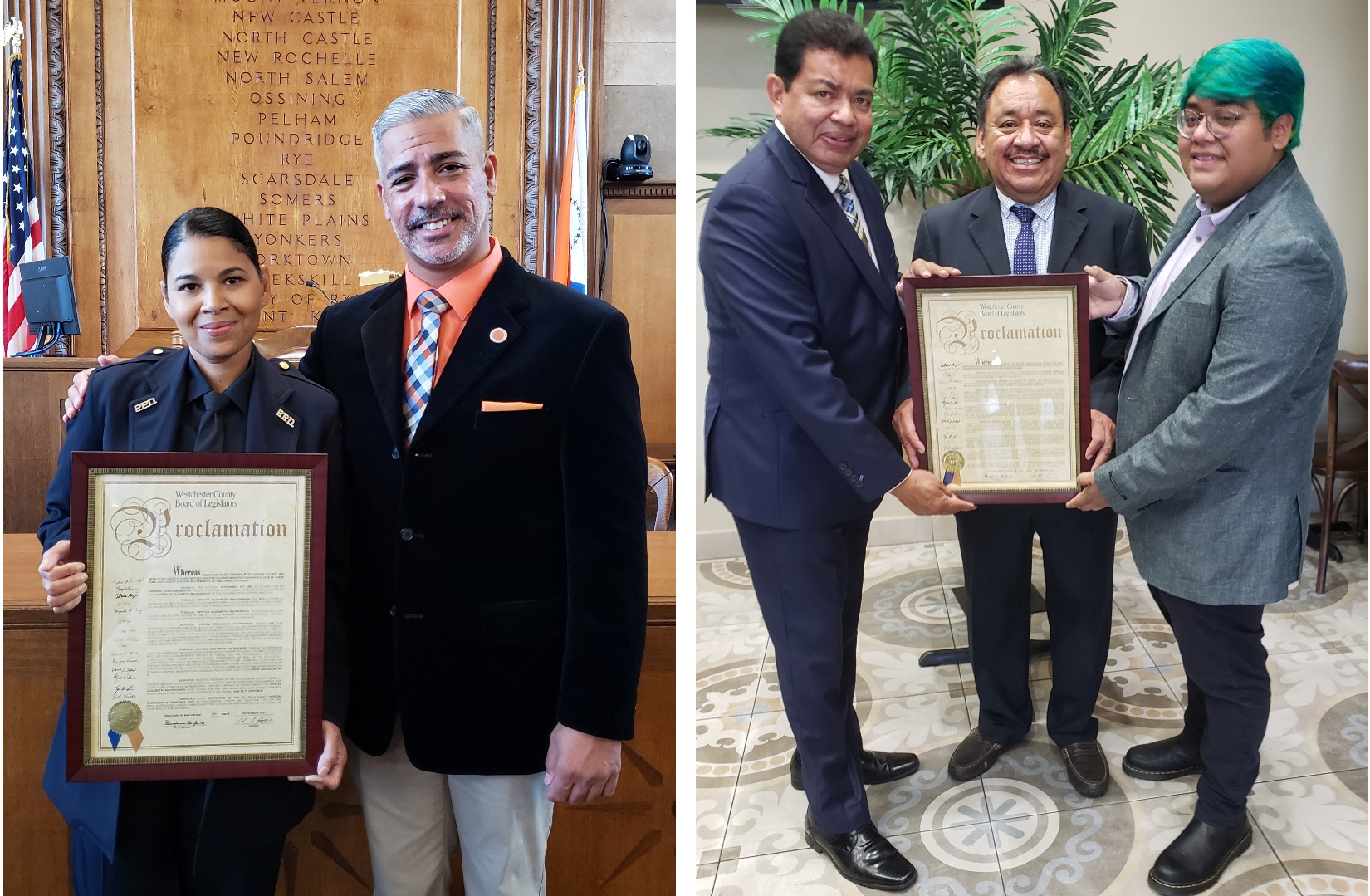 White Plains, NY — The Westchester County Board of Legislators recognized Hispanic Heritage Month on Monday, September 20 with a special ceremony and video presentation honoring two prominent community leaders: Officer Elizabeth Macpherson of Peekskill and Alfonso Alvarez of Yonkers.
In his opening remarks, Chairman Ben Boykin (D – White Plains, Scarsdale, Harrison) said, "This year's theme is Esperanza: A Celebration of Hispanic Heritage and Hope. Esperanza means hope or expectation in Spanish. What could be more fitting considering the past 18 months? The pandemic has made "esperanza" very relevant to all of us… Hispanic people in America, regardless of which country they hailed from, have needed perseverance, resilience, and yes, hope, in order to succeed here. They have endured discrimination, hardship and loss, and in spite of many obstacles have contributed so much and have had so many stories of success."
"Tonight we honor two individuals who have been successful in so many ways… I want to extend my personal congratulations to them, and my personal thanks for their committed community service."
Legislator Colin D. Smith (D - Cortlandt, Peekskill, Yorktown) presented the first proclamation, lauding the hard work and determination of Officer Macpherson. He said, "Liz has played a crucial role in Peekskill as the liaison between the Police and the Hispanic community. She's ensured that resources and information reach community members and has also initiated several significant projects … she is a sterling example of a woman who, despite life's many challenges, has proven time and again that determination and a will to succeed will ultimately win the day."
Officer Macpherson responded by saying, "Thank you, Legislator Smith and the entire Board of Legislators for this wonderful recognition of my work bringing law enforcement and the Hispanic community together …My career as an officer has allowed me to extend my desire to help others in a way that other careers can't. I'm proud of the work that's been accomplished because I know that access to resources for vulnerable communities is crucial."
"Being a woman of color in this line of work can be hard and I've encountered tough obstacles but, I know that dedicating my work to making my community safer these past 18 years has been worth every obstacle I've encountered."
The Board has declared Saturday, September 25, 2021, "Officer Elizabeth Macpherson Day" in Westchester County. Her name will appear on the marquee at the County Center.
Watch the virtual presentation to Officer Elizabeth Macpherson here: https://vimeo.com/609972137
Legislator José Alvarado (D - Yonkers) presented the second proclamation, in both English and Spanish to beloved Yonkers restaurant owner, Alfonso Alvarez. He said, "I am so happy to recognize my friend, Alfonso Alvarez, as we celebrate Hispanic Heritage month. He is an invaluable community leader and an inspiration to all in Yonkers. Alfonso really needs no introduction because he is widely known as someone who is always available and ready to lend a hand to those in need."
Mr. Alvarez responded with gratitude in Spanish, and his son, Alfonso, Jr. responded in English, "My family thanks Legislator Alvarado and the entire Board of Legislators for this recognition of our father's work and for honoring him with a special day. We are very proud of all that he has done to help the community here in Yonkers, as well as the Mexican community where he is from in Puebla. He is a humble, loving and knowledgeable person who just does his best to help whenever he can. For example, during the pandemic he gave 600 pantry baskets to people in need here in Yonkers…we are very proud and happy that our father is getting the acknowledgement that he deserves."
The Board has declared Tuesday, September 21, 2021, "Alfonso Alvarez Day" in Westchester County. His name will appear on the marquee at the County Center.
Watch the virtual presentation to Alfonso Alvarez here: https://vimeo.com/609973159
Read the program for Monday night's event at: https://www.westchesterlegislators.com/images/Newsroom/2021/092021_Hispanic_Heritage_PROGRAM.pdf
(PICTURED ABOVE L to R: Officer Elizabeth Macpherson, Leg; Colin Smith; Leg. Jose Alvarado, Alfonso Alvarez, Alfonso Alvarez, Jr.)