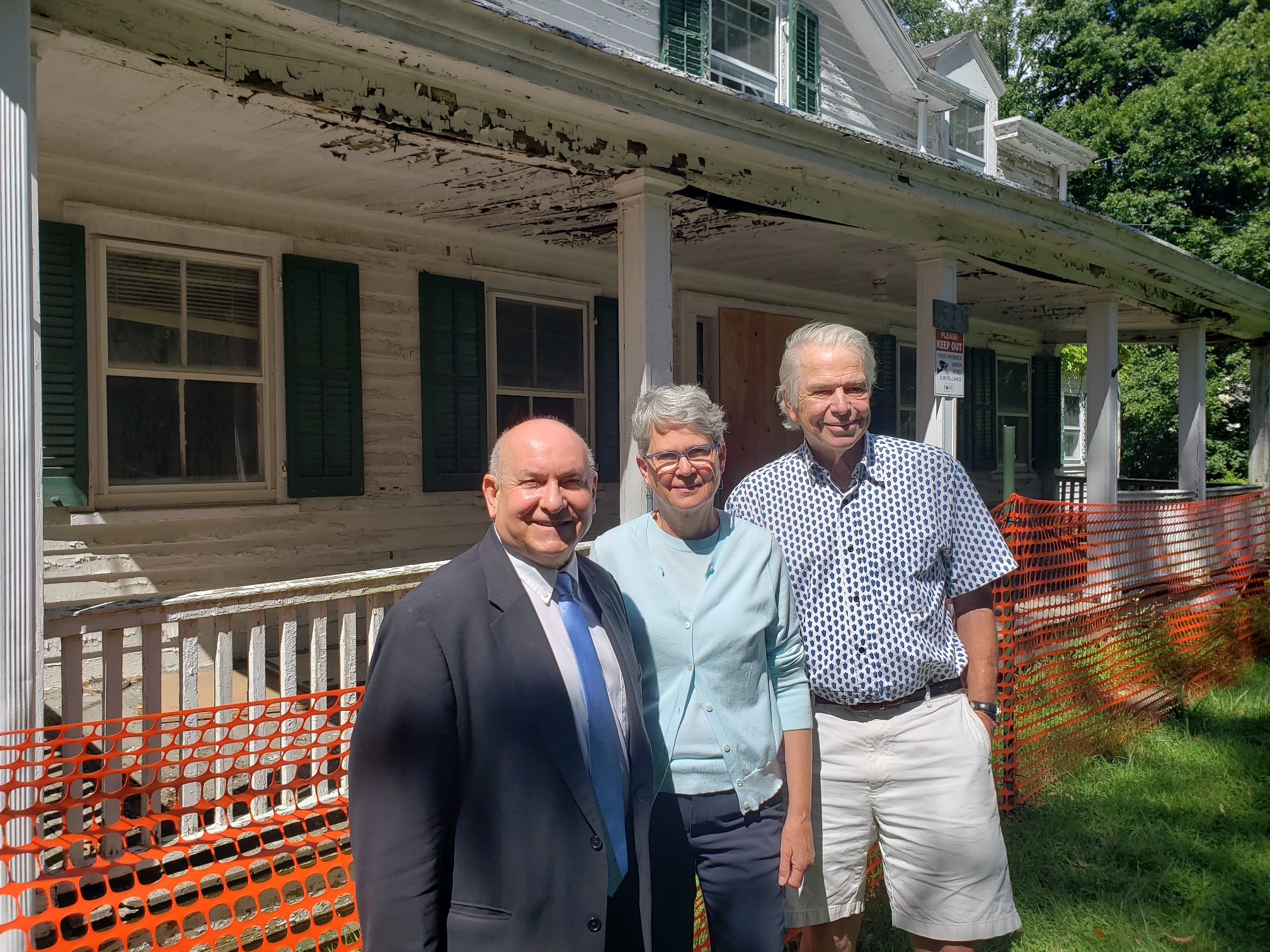 White Plains, NY — On Monday the Board of Legislators approved $400,000 in financing for the design of the restoration of the Farm House at Merestead Park.
The newly approved work -- which begins the restoration of a 19th century farmhouse on the 130-acre property -- follows approval in 2019 of a $4 million bond to envelope and restore the exterior of the park's 28-room Georgian mansion, built in 1907, to protect its substantial art collection and library.
The Merestead property – located in the Towns of Bedford and Mount Kisco – was deeded to the county in 1982 for use as a park by Margaret Sloane Patterson, daughter of William Douglas Sloane, a president of the furniture company W and J Sloane. Westchester took full possession of the property in 2002.
The Farm House, which predates the ownership of the property by the Sloane family, is listed on the National Register of Historic Places.
Legislator Kitley Covill, (D - Bedford, Lewisboro, Mount Kisco, North Salem, Pound Ridge, Somers), who has long fought for the restoration of Merestead said, "This is an enormously important step for Merestead's future. This an historic building entrusted to the County that unfortunately has fallen into extreme disrepair. Sitting as it does near Byram Lake Road it is one of the first things visitors see when they come to this park."
"It is important that we properly care for and preserve the historic buildings entrusted to us -- as we are doing with the house at Merestead, as we're doing with other historic County buildings like the Tarrytown Lighthouse, and as we did with the Miller House. The restored Farm House will not only give future visitors a window into our past, but also stand as a symbol of good County stewardship of our history."
"I'd like to thank County Executive George Latimer and Deputy County Executive Ken Jenkins for their commitment to this park, and give a special shout out to the amazing Parks Department staff for the work they do at Merestead."
Assemblymember Chris Burdick said, "I wish to thank both County Executive Latimer and County Legislator Covill for moving ahead on this key step for the restoration of the historic farm house at Merestead. This enables me to request the release of the $250,000 in New York State grant funding that was secured by my predecessor, former Assemblyman Buchwald. State Senator Shelley Mayer similarly secured $250,000 for the restoration project. Thanks as well to Bedford Historian John Stockbridge for his effective advocacy on Merestead's behalf. I look forward to seeing the much-needed restoration of this Westchester treasure."
Bedford Town Historian John Stockbridge said, "I want to thank Legislator Covill for her perseverance and County Executive George Latimer for his commitment to the restoration of the whole Merestead property, including the Farm House. The preservation of this historic building ensures that our history will remain tangible to future generations. Hand hewn beams in the basement confirm the early nineteenth century period of its construction which was in the heart of the agrarian era in Bedford's history. With its beautiful setting the property and the farmhouse are a local treasure and so worthy of the County's restoration and preservation."
(PICTURED ABOVE L to R: Assemblymember Chris Burdick, Legislator Kitley Covill, Bedford Town Historian John Stockbridge at Merestead Farm House)