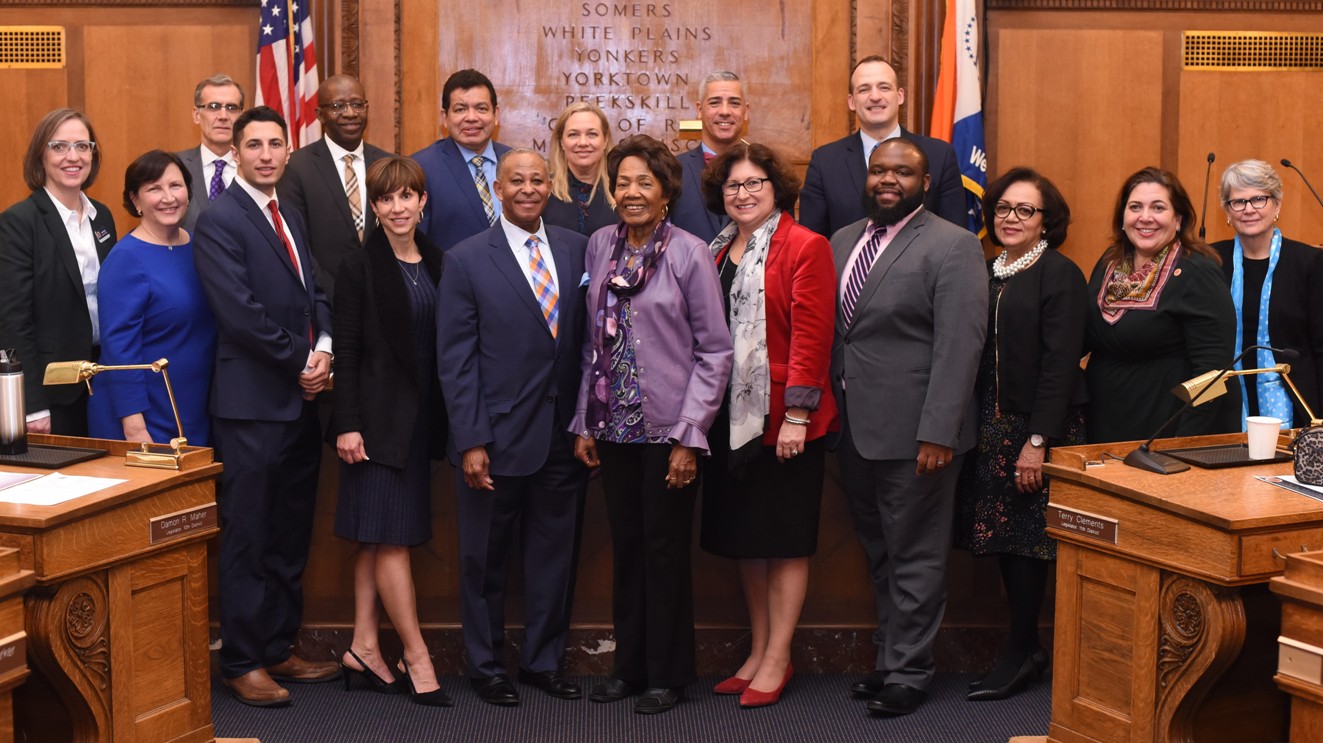 White Plains, NY — The Westchester County Board of Legislators began the 2020-2021 term on Monday, re-electing Ben Boykin (D-White Plains, Scarsdale, Harrison) as Chair and Alfreda Williams (D - Elmsford, Greenburgh, Sleepy Hollow, Tarrytown) as Vice Chair.
In a ceremony at the Board's Chamber Monday night, all 17 legislators were sworn in, including three new legislators beginning their first terms -- Colin D. Smith (D - Cortlandt, Peekskill, Yorktown) in District 1, Vedat Gashi (D - New Castle, Somers, Yorktown) in District 4, and Ruth Walter (D - Bronxville, Yonkers) in District 15. Also sworn in was Jose I. Alvarado (D - Yonkers) in District 17, who returns to a seat he held from 2001-2011.
Outgoing Majority Leader Catherine Parker (D - Harrison, Larchmont, Mamaroneck, New Rochelle, Rye) chose not to seek the position. Democrats, who hold a 15-2 majority, selected MaryJane Shimksy (D - Ardsley, Dobbs Ferry, Edgemont, Hartsdale, Hastings-on-Hudson, Irvington) as Majority Leader and Christopher A. Johnson (D – Yonkers) as Majority Whip.
The minority caucus selected Margaret A. Cunzio (C- Mount Pleasant, North Castle, Pleasantville) as Minority Leader for 2020, and David J. Tubiolo (R- Yonkers, Mount Vernon) as Minority Whip for 2020.
Chairman Boykin said, "While we achieved a lot in the last term, there is more work to do. We must fearlessly address challenges and seize opportunities with regard to affordable housing, economic development, infrastructure, the environment, and public safety. And in these times we must make sure that all our residents, are safe, secure and welcome, regardless of race, religion, gender, and sexual orientation. Hate and bigotry have no place in this County and acts of hatred and bigotry will not be tolerated.
"We look forward to a new term brimming with fresh energy and ideas, building on our record of progressive achievement to ensure a better tomorrow for the people of Westchester. We will be bold, we will act bold and we will implement a bold agenda."
(PICTURED ABOVE: L to R: top row: Damon Maher, Lyndon Williams, Jose Alvarado, Catherine Parker, Colin Smith, Vedat Gashi; bottom row: Ruth Walter, Nancy Barr, Minority Whip David Tubiolo, Minority Leader Margaret Cunzio, Chair Ben Boykin, Vice Chair Alfreda Williams, Majority Leader MaryJane Shimsky, Majority Whip Christopher Johnson, Terry Clements, Catherine Borgia, Kitley Covill; Photo: Jaevon Boxhill)