White Plains, NY — The Westchester County Board of Legislators recognized Italian Heritage and Culture Month with a special ceremony Monday night, held in collaboration with the Westchester Coalition of Italian American Organizations (WCIAO).
As part of the ceremony, 18 exceptional students of Italian language and their teachers from across Westchester County were recognized with special certificates. In addition, six students were presented with scholarships generously donated by John DeCicco Sr. & Sons, and Ace Endico. These were awarded to the students by Carlo Sclafani, co-president of WCIAO.
Legislator Margaret Cunzio (C – Mt. Pleasant, North Castle, Pleasantville) presided over the distribution of Certificates of Merit to the deserving students.
Also honored at Monday night's ceremony were the Circolo da Vinci Society of Yorktown Heights and Dominick (Nick) Franzoso, EMS director and chief of the Ossining Volunteer Ambulance Corps (OVAC).
The Circolo da Vinci Society -- dedicated for 37 years to promoting and preserving the customs and traditions of Italian heritage throughout Westchester County -- received a proclamation and joint accolades from Minority Leader John G. Testa (R – Cortlandt, Peekskill, Yorktown) and Legislator Michael Kaplowitz (D – New Castle, Somers, Yorktown). The legislators celebrated the group for its scholarships and other significant contributions to the community.
Dorothea Lascala, president of Circolo da Vinci, accepted the proclamation and expressed her gratitude to the Board on behalf of the organization. "I thank you for this honor," she said noting the organization's work in preserving Italian heritage and culture, "So proud to be an Italian-American!" she added.
Nick Franzoso received a proclamation from Legislator Catherine Borgia (D- Briarcliff Manor, Cortlandt, Croton, Ossining, Peekskill).
"It's definitely an honor to be here to represent OVAC and my Italian heritage. Thank you to Catherine, and to the rest of the Board," said Franzoso.
Under Franzoso's leadership, OVAC has consistently provided high-quality and timely emergency medical care for Ossining residents, despite an increase in calls for service. Franzoso is dedicated to improving community education and volunteerism not just in Ossining, but throughout the mid-Hudson region.
The Board and WCIAO also exchanged tributes. A proclamation was presented by Leg. Cunzio to Sclafani, and a framed poster depicting the designation of Matera, Italy as the European Capital of Culture in 2019 was presented to Board Chair Ben Boykin (D- White Plains, Scarsdale, Harrison) by Sclafani.
WCIAO is an alliance of Italian-American civic, educational and social groups in Westchester County dedicated to preserving and celebrating Italian culture, and furthering the study of Italian language.
(PICTURED ABOVE: Legislators with recognized students and teachers; Photo Credit: Jaevon Boxhill)
(Members of Circolo da Vinci Society with L to R; Board Chair Ben Boykin, Minority Leader John Testa, Circolo Pres. Dorothea Lascala, Leg. Michael Kaplowitz; Photo Credit: Jaevon Boxhill)
(L – R: Board Chair Ben Boykin, Dominick Franzoso, Leg. Catherine Borgia; Photo Credit: Jaevon Boxhill)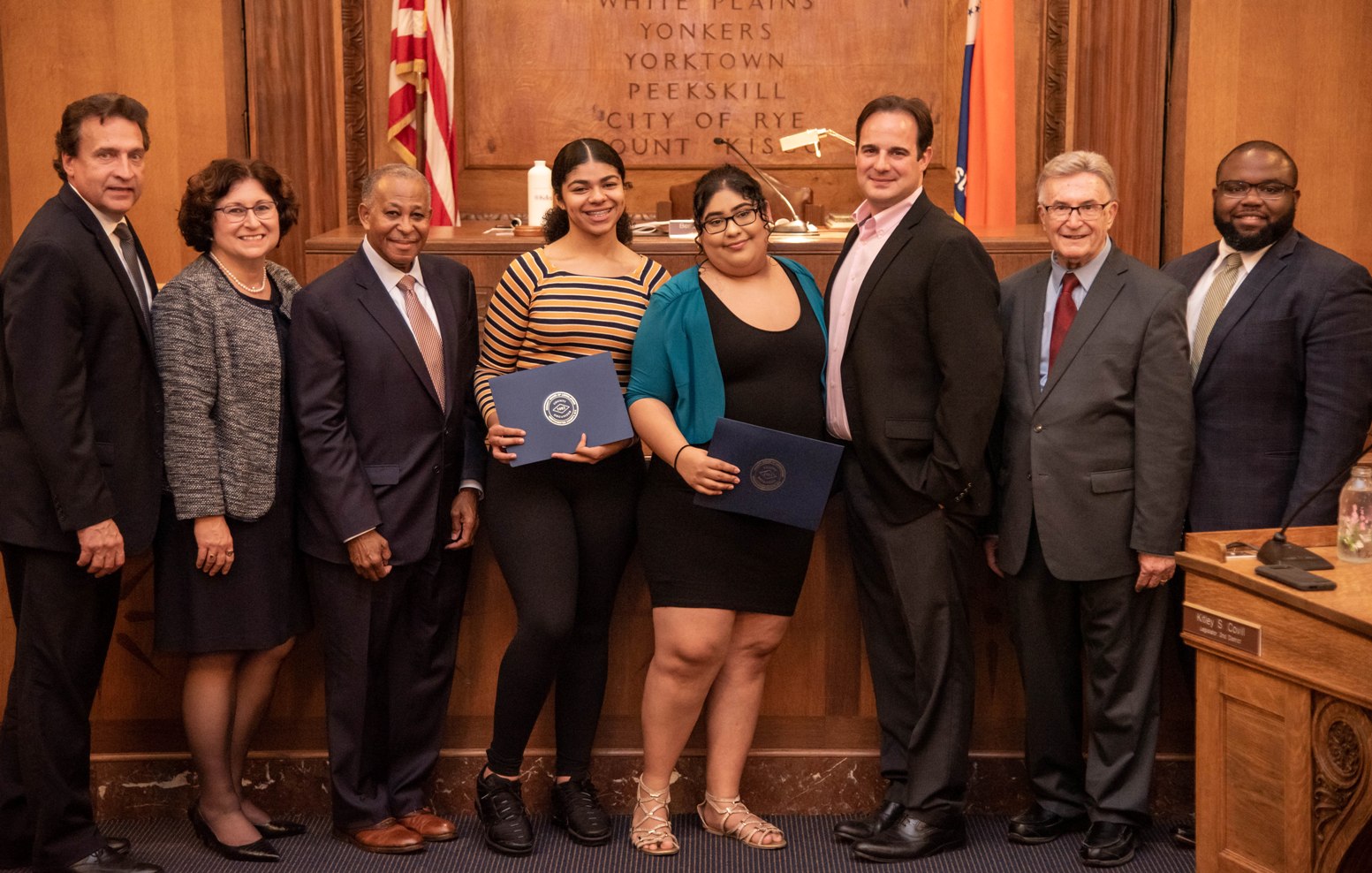 (L – R: Minority Whip Gordon Burrows, Majority Whip MaryJane Shimsky, Board Chair Ben Boykin, Zahara Reid, Sara Ballinas, John DeCicco Jr., Carlo Sclafani,, Leg. Christopher Johnson; Photo Credit: Jaevon Boxhill)
(L – R: Board Vice Chair Alfreda Williams, Minority Whip Gordon Burrows, Board Chair Ben Boykin, Dominick Gould, Michael Endico, Devonnie Webster, Sara Ricchiuti, Leg. Christopher Johnson, Carlo Sclafani, Leg. Damon Maher; Photo Credit: Jaevon Boxhill)

Student award recipients, their schools and teachers, are listed below by legislative district:
District 1—Hon. John G. Testa
James Reilly, Hendrick Hudson High School
Teacher: Antonietta Gliubizzi
District 2—Hon. Kitley S. Covill
Daniel Della Vecchia, Somers High School
Teacher: Joan Scerbo
District 3—Hon. Margaret A. Cunzio
Marissa Tradito, Westlake High School
Teacher: Francesca Bellomusto
Mariantonia Vernillo, Valhalla High School
Teacher: Stephanie Albanese
District 4—Hon. Michael B. Kaplowitz
Gianna Schettino, Yorktown High School
Teacher: Dominic Passarelli
District 5—Hon. Benjamin Boykin II
Dominick M. Gould, White Plains High School
Teacher: Giuseppe Spedaliere
District 7—Hon. Catherine F. Parker
Giulianna Miceli, Rye Neck High School
Teacher: Rosina Martinelli
District 8—Hon. Alfreda A. Williams
Alyssa D`Ippolito, Maria Regina High School
Teacher: Laura Ponziani
District 9—Hon. Catherine Borgia
Julia Iorio, Ossining High School
Teacher: Francesca Amedeo
District 10—Hon. Damon R. Maher
Sara Ricchiuti, Eastchester High School
Teacher: Gessica Roviezzo
Sofia Pordage, Immaculate Conception School
Teacher: Mara Persampieri
District 11—Hon. Terry A. Clements
Sierra Daly, Isaac E. Young Middle School
Teacher: Rosa Posnick
Bernadette Russo, Pelham Memorial High School
Teacher: Christina Prignano
District 12—Hon. MaryJane Shimsky
Sara Ballinas, Ardsley High School
Teacher: Michelle Chiara Genna
Districts 14, 15, 16, and 17 -- Hons. David J. Tubiolo, Gordon A. Burrows, Christopher A. Johnson & Virginia Perez
Zahara Reid, Lincoln High School
Teacher: Giovanna De Angelis
Devonnie Webster, Yonkers High School
Teacher: Maria Di Bello
Danielle Miclat, Yonkers Montessori Academy
Teacher: Marc Aliberti

In addition, the John DeCicco Sr. & Sons scholarships went to:
Francesco Paone, Somers High School
Sara Ballinas, Ardsley High School
Zahara Reid, Lincoln High School, Yonkers

The Ace Endico Scholarships were awarded to:
Dominick M. Gould, White Plains High School
Devonnie Webster, Yonkers High School
Sara Ricchiuti, Eastchester High School