White Plains, NY — The Westchester County Board of Legislators recognized Hispanic Heritage Month with a special ceremony Monday night honoring two community leaders.
Sally Ocasio-Pinto, who oversees intergenerational literacy programs in school districts across Westchester County as Interim Director of Jewish Council of Yonkers-Westchester Community Partners (JCY-WCP), was presented with a proclamation by Legislator Virginia Perez (D – Yonkers).
Speaking to legislators Monday night, the 23-year resident of Yonkers who is of Puerto Rican descent, said she sees the positive impact of her programs on the Hispanic community where she works and lives.
Ocasio-Pinto said, "Our programs are open to everyone, but a lot of the participants are Hispanic children, many of whom are new to this country but are still expected to graduate high school in four years."
"I am truly honored to receive this award and because I recognize so many faces of the legislators who have come to our programs, I know I am here with family."
Carmenza "Carry" Cubillos received a proclamation from Legislator Catherine Borgia (D – Briarcliff Manor, Cortlandt, Croton, Ossining, Peekskill). As Cultural Programming Specialist for the Ossining Public Library, she has spearheaded and expanded the library's Spanish-language programming for two decades.
Emigrating from Bogota, Columbia as an adult, she felt firsthand the frustration of not being able to communicate. Observing so many others sharing her experience of being shut out because they did not yet speak English inspired her to serve the Ossining community through the library.
Cubillos said, "We create programs where everyone can feel welcome and belong to something. If they need something, we find it for them. I believe that the more we know about each other, the less differences we will see."
At this year's celebration, the legislators, honorees and guests enjoyed a special performance by Mariachi Juvenil Los Tigres of White Plains High School. Led by bandleader Zachary May, the students played two pieces from their repertoire.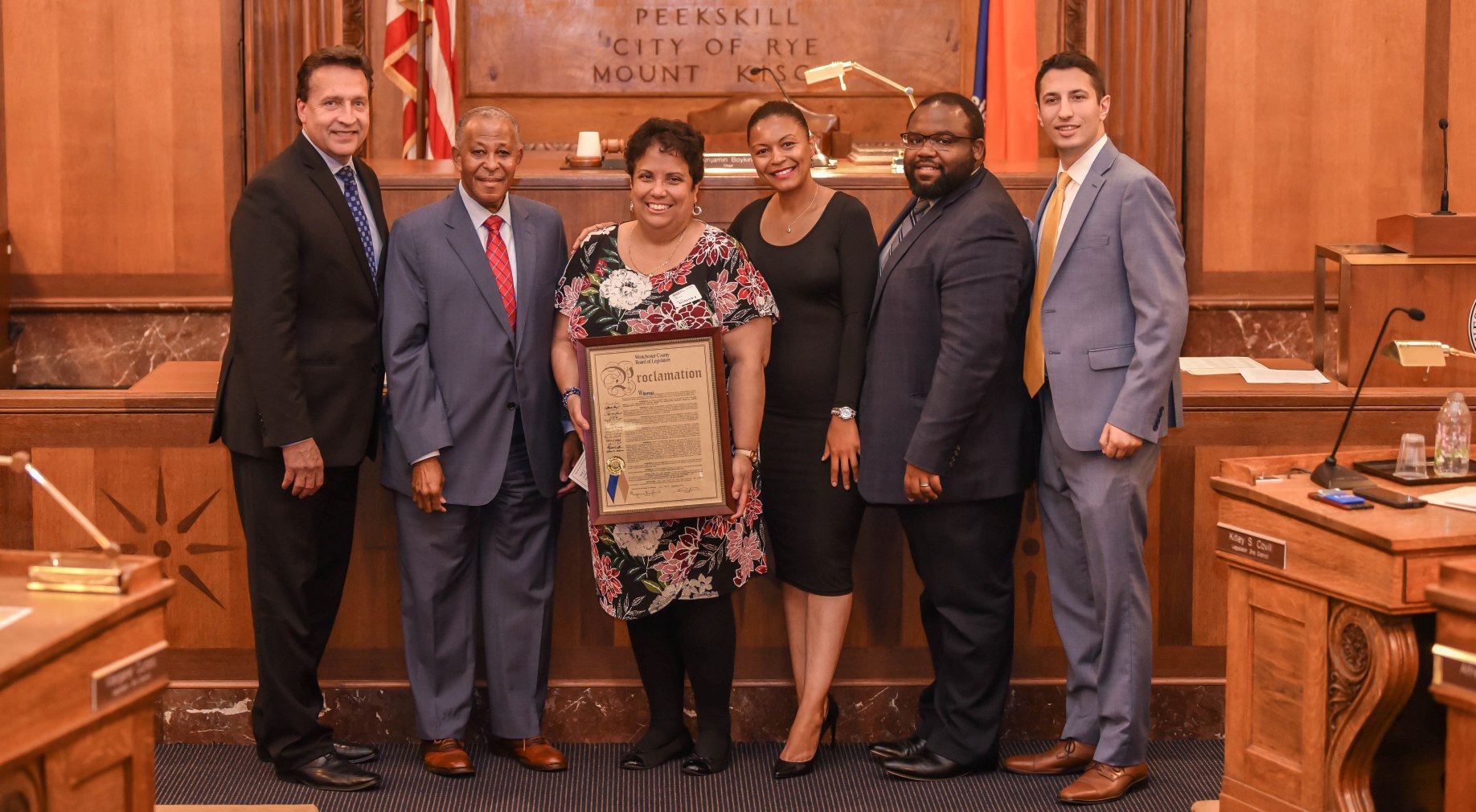 (L to R: Minority Whip Leg. Gordon Burrows; Board Chair Ben Boykin; Sally Ocasio-Pinto, Leg. Virginia Perez; Leg. Christopher Johnson; Leg. David Tubiolo; Photo Credit: Jaevon Boxhill)

(L – R: Board Chair Ben Boykin, Carry Cubillos; Leg. Catherine Borgia; Photo Credit: Jaevon Boxhill)