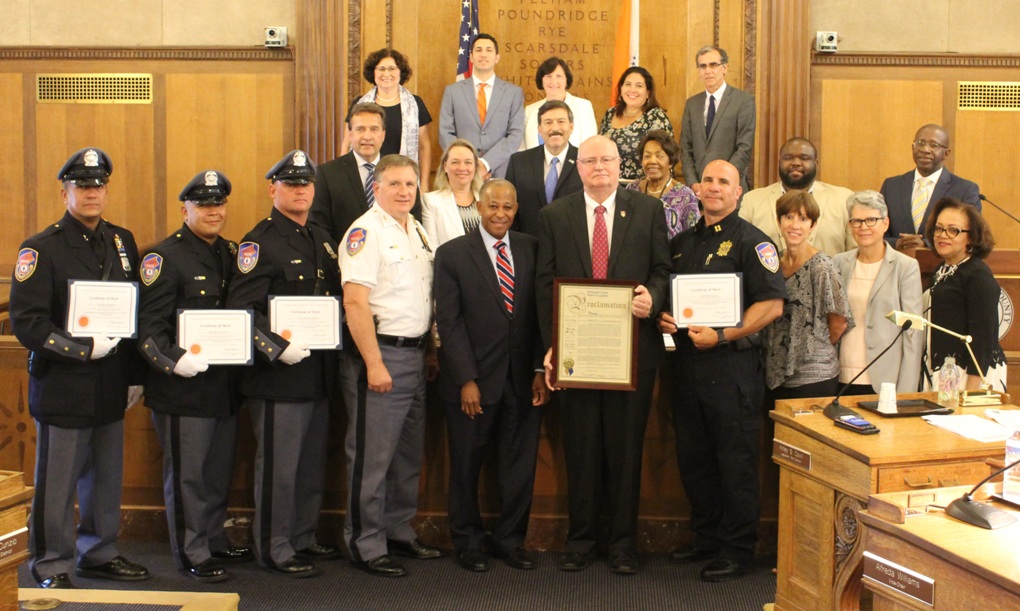 White Plains, NY — The Westchester County Board of Legislators held a special ceremony Monday night to mark the 40th anniversary of the creation of the county's Department of Public Safety and to honor some of the department's officers for recent, heroic efforts to protect the people of Westchester County.
Chairman Ben Boykin and Legislators Kitley Covill (D-Bedford, Lewisboro, Mount Kisco, North Salem, Pound Ridge, Somers) and Margaret Cunzio (C-Mount Pleasant, North Castle, Pleasantville), Chair of the Board's Public Safety Committee, presented the department with a proclamation marking the anniversary and declaring July 16th "Department of Public Safety Day" in Westchester.
On hand to accept were Chief Inspectors Martin McGlynn and Christopher Calabrese.
During the ceremony, Legs. Covill and Cunzio awarded special Certificates of Merit on behalf of the Board to Westchester County Marine Unit Police Officers Kirt Maddocks, Isai Moreira and Wilberto Saez. The trio were commended for their rescue of a man who had fallen off a personal watercraft and drifted into the Hudson River in May. On hand as well for the Certificate of Merit ceremony was Special Operations Captain James Luciano.
Also commended, though not able to attend the ceremony, was County Police Officer Stefan Goggin. Goggin was involved in a high-speed incident on the Hutchinson River Parkway in June. During a traffic stop, Goggin jumped into a car that speed away at speed of up to 60 miles in order to apprehend a suspect. That incident ultimately led to a drug seizure.
The legislators each noted how the recent incidents illustrated the bravery and dedication of the men and women of the Department of Public Safety, and the breath of the department's skills and resources.
Legs. Cunzio, said, "It is truly an honor to be able to say thank you to the men and women who protect and serve our community. I'd also like to say thank you to the families of the men and women who serve. This anniversary is also a good time to call attention to the amazing range of resources that the department offers."
Legs. Covill said, "We are so appreciative of the work of the people of the Department of Public Safety. It is great to know that with their training and vigilance, and with resources like the Aviation Unit and the Marine Unit and the Bomb Squad, the people of the department are watching over us. Thank you very much."
The Westchester County Department of Public Safety was created on July 1, 1979 through the merger of the Westchester County Sheriff's Department and the Westchester County Parkway Police.
(PICTURED ABOVE L to R: front row -- Police Officers Wilberto Saez, Isai Moreira and Kirt Maddoks; Chief Inspector Christopher Calabrese, Board Chair Ben Boykin, Chief Inspector Martin McGlynn, Captain James Luciano; Legs. Margaret Cunzio, Kitley Covill, Terry Clements; center row – Minority Whip Gordon Burrows, Majority Leader Catherine Parker, Minority Leader John Testa, Vice Chair Alfreda Williams, Legs. Christopher Johnson and Lyndon Williams; back row – Majority Whip MaryJane Shimsky, Legs. David Tubiolo, Nancy Barr, Catherine Borgia, Damon Maher)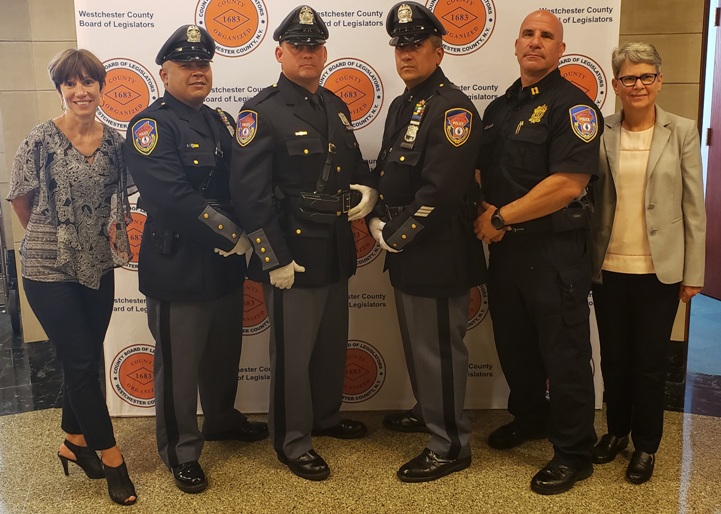 (L to R: Leg. Margaret Cunzio, Officer Isai Moreira, Officer Kirt Maddocks, Officer Wilberto Saez, Captain James Luciano, Leg. Kitley Covill)