White Plains -- The Westchester County Board of Legislators Monday night celebrated Women's History Month, honoring four women who have long careers as community leaders in the County.
Legislators Damon Maher (D - Eastchester, New Rochelle, Tuckahoe) and Terry Clements (D - New Rochelle, Pelham, Pelham Manor) presented a proclamation to Barbara Davis, New Rochelle's City Historian since 2001, and Community Relations Coordinator for the New Rochelle Public Library.
Davis is the past President of the Westchester County Historical Society and former Curator of Public Programs for the Hudson River Museum.  She also served as Chairperson of the County's Historic Preservation Advisory Committee for 10 years.
Speaking to legislators and guests in the Board's Chambers, Davis reviewed the connections to Westchester of leaders in the fight over women's suffrage in the 19th century -- Lucretia Mott, Susan B. Anthony and Carrie Chapman Catt, who helped found the League of Women Voters, whose activities were centered at Catt's house in New Rochelle in the years following the passage of the 19th Amendment, which ensured the right to vote for women.
"Next year, as the country observes the hundredth anniversary of the ratification of the 19th amendment, I hope we all remember these incredible, amazing, tireless, notable women, as well as the scores of unsung women who joined their ranks," Davis said.
Board Vice Chair Alfreda Williams (D - Elmsford, Greenburgh, Sleepy Hollow, Tarrytown) presented a proclamation to Dr. Bettye H. Perkins, Founder and CEO of Today's Students Tomorrow's Teachers, an organization dedicated to closing the teacher diversity gap by recruiting and mentoring culturally diverse and economically challenged high school students interested in a teaching career. Over its 23-year history, the organization has produced more than 160 alumni teaches with nearly 800 high school and college students currently in the pipeline.
Dr. Perkins spoke about three women whose legacy and service shaped her life -- her grandmother, her mother, and former Westchester County Board of Legislators Chair, the late Lois Bronz.  She said, "As you think about the great women in your lives and think about all of the goodness and think about things that you have learned from women who have left a legacy and women who have taught you, think about passing it on, so that the legacy continues."
Board Chair Ben Boykin (D – White Plains, Scarsdale, Harrison) and Leg. Catherine Borgia (D - Briarcliff Manor, Cortlandt, Croton-on-Hudson, Ossining, Peekskill) presented proclamations to Isabel Villar and Hilda-Judith Aucar, respectively the founding Executive Director and the long-time Deputy Director of El Centro Hispano. For 45 years, the organization has worked to improve the lives of Latino residents in White Plains and Westchester County, providing housing and employment information, workshops on parenting skills, tutorial programs for high schoolers, scholarships for college students, bilingual scout troops and more.
"It was not an easy journey," said Villar, who came to the United States as a high school student from her native Cuba speaking no English, and wound up earning three master's degrees, having a 32-year teaching career, and founding El Centro Hispano just eight years after her arrival. "I had to prove myself.  I was young, an Hispanic, and a woman."
But, she said, "I knew I had a very important mission to fulfill – I wanted to give back to the community and this country that have done so much for me and for all the members of my family."
Aucar, who also came to the US from Cuba and earned three master's degrees before going on to a career in teaching, joined El Centro Hispano in 1978 and supervises its education programs.  She said, "El Centro Hispano has made me a better human being.  It has allowed me to help those in need for the last 41 years.  It has allowed me to help others overcome the same experiences I had to overcome when I came here with my mother and four siblings from Cuba after having to leave behind my oldest brother and my father."
(PICTURED ABOVE: Women's History Month honorees with Board's women legislators; L to R bottom row: Leg. Terry Clements, Vice Chair Alfreda Williams, Barbara Davis, Hilda-Judith Aucar, Isabel Villar, Dr. Bettye Perkins, Leg. Catherine Borgia; Leg. Margaret Cunzio; L to R top row: Majority Whip MaryJane Shimsky, Majority Leader Catherine Parker, Leg. Virginia Perez, Leg. Nancy Barr)
(L to R: Leg. Damon Maher, Leg. Terry Clements, Barbara Davis, Majority Leader Catherine Parker, Board Chair Ben Boykin)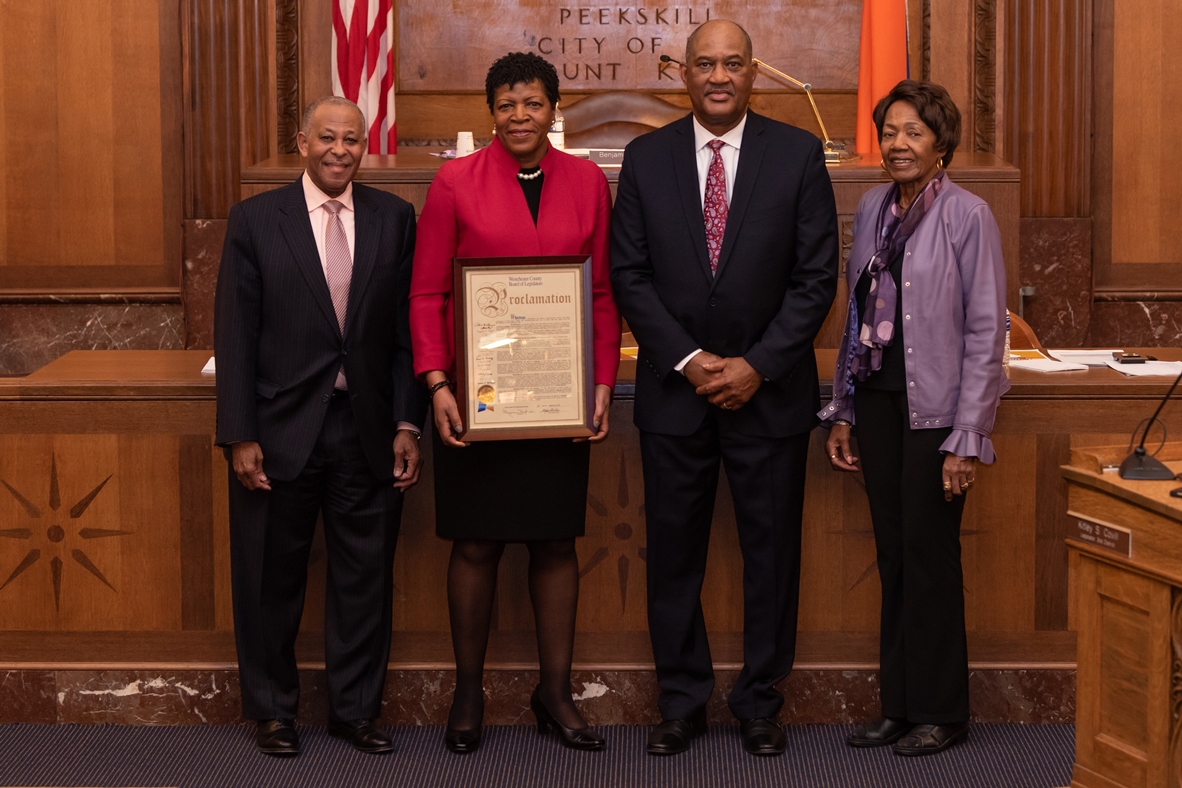 (L to R: Board Chair Ben Boykin, Dr. Bettye Perkins, John Perkins, Vice Chair Alfreda Williams)
(L to R: Board Chair Ben Boykin, Hilda-Judith Aucar, Isabel Villar, Leg. Catherine Borgia)