Articles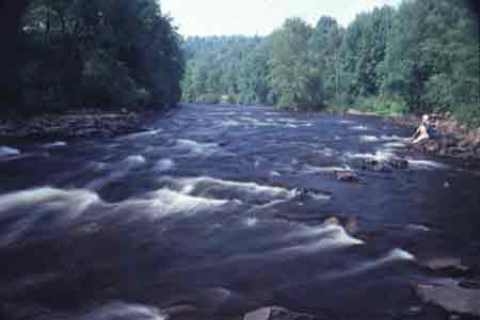 Members of the Westchester County Board of Legislators (BOL) Septic Subcommittee received a presentation from the two authors of the Clean Watershed Needs Survey (CWNS) today at the Michaelian Office Building in White Plains. Representatives of towns and villages from northern Westchester and Putnam counties were also in attendance. The purpose of the 2012 CWNS is to assess the capital costs for water pollution abatement or protection projects that are not completely funded as of January 1, 2012 or expected to occur within the next 20 years.
This is of special interest to the BOL because the ten Croton Watershed towns of northern Westchester have been saddled with $150 million in unfunded mandates by the New York States Department of Environmental Conservation to reduce phosphorous from the watershed to protect New York City's water supply.
Westchester County Board of Legislators Majority Leader and Subcommittee Chairman Peter Harckham (D-Katonah) welcomed Raymond Kvalheim, a project director with the U.S. Environmental Protection Agency (USEPA), and Jason C. Denno, from the New York State Environmental Facilities Corporation and CWNS state coordinator, to discuss necessary wastewater infrastructure improvements and how to document these needs.
"This was an extremely important meeting to bring all of the stakeholders together to discuss clean water infrastructure needs in Westchester, and how to appropriately document those projects for USEPA's submission to Congress for appropriations," said Legislator Harckham. "More needs to be done, of course, but we laid out the road map today."
"Getting into the CWNS report is critical because of how the federal government cut back on clean water funding," continued Harckham. "We need to document our projects to compete for reduced funding."
The emphasis on long-term needs and costs for watershed protection and wastewater management encourages advanced asset management and supports US EPA's Sustainable Infrastructure Initiative. The USEPA will uses the collected data for the CWNS to document national needs in a report to Congress that will provide federal lawmakers with information to assist in their budgeting efforts in the 2013 budget appropriations bills. The data is also used to help measure environmental progress, contribute to academic research, provide information to the public, and help local and state governments implement water quality programs.
Prior to the Subcommittee meeting, Legislator Harckham met with Messrs. Kvalheim and Denno to get more information about the CWNS and how it may help with the $150 million in unfunded mandates imposed upon the county's northern communities.
Over 20 different local officials attended the subcommittee meeting, and the roundtable discussion that followed the presentation featured a lot of information sharing. Kvalheim noted that there was a lot of time to get data together for the CWNS. The categories of watershed needs include wastewater treatment systems; wastewater collection and conveyance; combined sewer overflow; stormwater management programs; non-point source control; and decentralized stormwater systems.
Also attending the subcommittee meeting were Legislator Martin Rogowksy (D-Harrison) and Legislator Mary Jane Shimsky (D-Greenburgh).
The federal government used to fund 90% of projects tied to the Clean Water Act.  Today, it only funds around 10% percent of those projects.